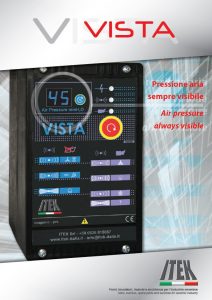 ITEK VISTA is a flame control able to manage a single-stage gas burner for industrial use, giving a full view of burner state and a continuous reading of the combustion air pressure input into the burner directly through liquid crystal display positioned in the control flame.
This unique feature, allows to constantly display the value of combustion air pressure, helping the operator in the control and in the possible variation of the required values quickly and intuitively.
It can handle double electrode and single electrode burners. Made of fireproof material, ITEK VISTA has a IP40 degree of protection, standard power supply 230V or 110V on request.
VISTA conforms to EN298 second certificate EC-87/02 / 61a / M1 / Rev. 01 issued by notified body 0087.
VISTA complies with EU directives: Directive on Gas 90/396 / EEC, Directive 2006/42 / EEC,
the Low Voltage Directive 2006/95 / EEC electromagnetic Immunity 89/336 / EEC, in union with EN298, EN230 and EN746-2.
VISTA conforms to the requirements for the Russian market according to GOST and GOSGORTEKHNADZOR.