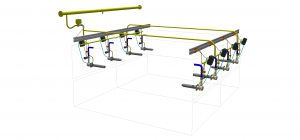 Currently the modulation of the temperature is done by varying the amount of gas injected in each group of burners and keeping constant the quantity of air. In normal working conditions with the kiln at full power or with low gas pressure we will have excess air while with high gas pressure will air in defect (for example, after a gap).
To fix this problem ITEK developed the APR system that allows to have a substantial energy saving in thermal machines for the production of ceramics, as well as a significant increase in the quality of the material produced.
APR is a system that allows to automatically monitor and adjust the combustion air pressure in input to each individual burner in a thermal machine for ceramic production, optimizing the combustion, with considerable energy saving and cost reduction, increase in the quality of the material and decrease of emissions in the atmosphere.
The system works independently and can be installed on any operating kiln in a simple way without the need to modify any part mechanical or electrical.