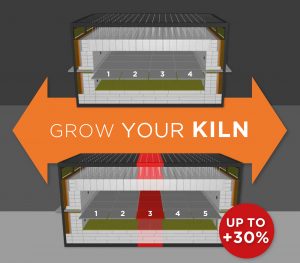 The experience in the regeneration and reconversion of existing kilns in the ceramic sector has allowed ITEK to expand the range of its services, growing and collaborating with its customers with constantly developing constructive and technological solutions.
Main strength is the reconversion of existing and outdated kilns, to new characteristics and measures requested by the customer. In particular, there is the possibility of increasing the useful load of an existing kiln, adapting it to the required production needs, with an important increase in production.
Starting from the base of an existing obsolete kiln in terms of payload, we have developed a total conversion that allows you to increase the useful load up to 30%.