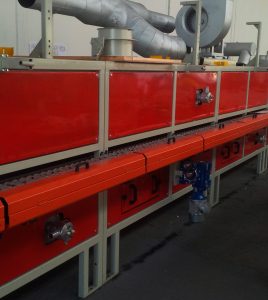 Driers IE-J series for drying of special pieces. Heat distribution system through stainless steel pipes equipped with high speed burners that avoid any contamination of the material.
The configuration of stainless steel pipes allow to have temperature uniformity summing both the convection and radiation effects.
Built in modular sections, the handling of material is done by means of motorized rollers with gear coupling.
Temperature control and rollers speed is fully automatic by software on touch screen.