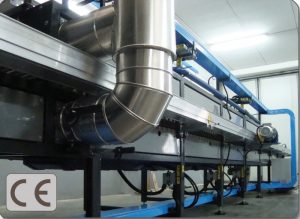 Driers ITL-E series for the waterproofing of the ceramic tiles surface or polished of natural stones.
This type of dryer can be also utilized for the drying of the tiles after the polishing line, cutting and squaring lines.
The machine configuration allow to have fast drying cycle, temperature uniformity and high thermal efficiency.
The ITL-E drier have heating system by electrical resistance elements.
Built in modular sections, the handling of material is done by means of motorized rollers with gear coupling.
Temperature control and rollers speed is fully automatic by software on touch screen.